Authorities in Xieng Khuang province are investigating more officials allegedly involved in taking bribes in connection with the illegal timber trade which has caused great damage to the nation. The provincial Governor, Mr Bounton Chanthaphone, told a news conference, which was held as part of a ...
 Somsack Pongkhao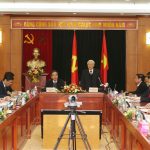 General Secretary Nguyễn Phú Trọng on February 11 asked the Party Central Committee's Economic Commission to improve its operations by coming up with high-quality, strategic projects and conducting objective and persuasive appraisals. In a post-new year meeting with the commission, Trọng demanded that the commission, a ...
Every Party and government organisation, the Lao Front for National Construction and other mass organisations, the mass media and the general public must actively combat autocracy and join the fight against corruption. This was the call from the Party Central Committee to people across the ...

Contact us
Thank you for taking the time to get in contact!