Myanmar sought time to review the implementation of connectivity arrangements in the region before proceeding with a motor vehicle agreement to operationalise the India-Myanmar-Thailand (IMT) highway that New Delhi wants to speed up, officials familiar with the developments said.[]The way Myanmar figures in China's One ...
 Jayanth Jacob & Moushumi Das Gupta

The government is in talks with Asean countries to extend the India-Myanmar-Thailand (IMT) highway up to Vietnam, a senior official said today. India and Asean countries are holding consultations on the extension of the 1,360 km IMT highway — from Moreh in India to Mae-Sot ...
 PTI

After three years of uncertainty surrounding China's ambitious Belt and Road Initiative (BRI), the highly anticipated Belt and Road Forum (BRF) was finally held in May 2017 in Beijing. But India, Beijing's most populous neighbour, was conspicuous in its absence.Despite earlier concerns over a lukewarm ...
The Ministry of Mines and Energy is set to issue the country's first commercial underground mining license to Indian company Mesco Gold in two weeks, despite opposition by residents of two villages concerned about compensation and environmental damage. The company plans to break ground on its ...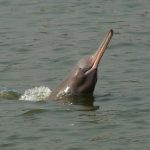 National waterways, starting with the Ganga, are being pushed as eco-friendly transport; nobody seems to have thought about the effect on the endangered Gangetic River Dolphin or the other life in the river. In March 2016, India passed the National Waterways Act, which marks 106 rivers ...

Contact us
Thank you for taking the time to get in contact!