The fishing gangs visit the river at night and the rangers do nothing to stop them. Working in large groups, the boatmen use fishing methods that have long been outlawed in this part of the mighty Mekong River like gillnetting, which uses nets that hang like ...
 Saqib Rahim

A newly born dolphin calf was spotted swimming among other adult dolphins in Kampi deep pool located in Kratie province, WWF-Cambodia said in a statement. The calf was found late last week by WWF-Cambodia's Mekong dolphin research team, it said, stressing that this is the fourth ...
Results from a World Wildlife Fund (WWF) and Cambodia Fisheries Administration census released on Monday (Apr 23) showed that the population of critically endangered river dolphins in the Mekong has slightly risen from 2015. Keep reading ...
 Ouch Sony

The International Union for Conservation of Nature said on Tuesday it had changed the status of the Irrawaddy dolphin and finless porpoise, both living in Asian waters, to "endangered" from "vulnerable", meaning they are closer to extinction.[]"In the Mekong River, for example, the majority of ...
 Channel News Asia Reporter

Nine critically endangered Mekong Irrawaddy dolphins, were born this year, but two of them died, the World Wildlife Fund has said. In a statement issued on Friday, the WWF said the population continues to be threatened by illegal fishing and hydropower dams.Keep reading ...
 Pech Sotheary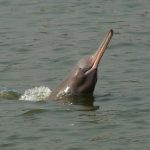 National waterways, starting with the Ganga, are being pushed as eco-friendly transport; nobody seems to have thought about the effect on the endangered Gangetic River Dolphin or the other life in the river. In March 2016, India passed the National Waterways Act, which marks 106 rivers ...