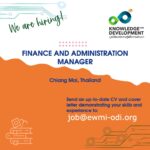 Assignment: Finance and Administration Manager Location: Chiang Mai, Thailand, with possible regional travel Contract Type: Full-time, on site. Reports to: Program Director Duration: 2 years (contingent on performance and funding continuation) Start: Immediately Deadline: Until filled Position: This position is open to Thai nationals OVERVIEW The Knowledge for Development Foundation (K4D) is a newly established not-for-profit organization based in Chiang Mai, Thailand. ...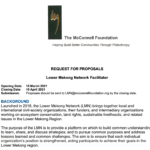 We are recruiting for a new LMN Facilitator. This role will be held by an independent consultant and contracted through the McConnell Foundation. Opening Date: 15 March 2021 Closing Date: 15 April 2021 Submission: Proposals should be sent to LMN@mcconnellfoundation.org by the closing date. BACKGROUND Launched in 2016, ...
The Open Development Initiative (ODI) is an open data and information network developed by East-West Management Institute, Inc. (EWMI) that sheds light on development trends in the Mekong Region. ODI's objective is to increase public awareness, enable individual analysis, improve information sharing, and inform rigorous ...

We are seeking two research fellows, based in Thailand and Laos respectively, to support the build-out of the Open Development national web portals by preparing editorial and data research projects on key development topics for Open Development Thailand and Open Development Laos.The ideal candidate will ...