Opportunity: Lower Mekong Network Facilitator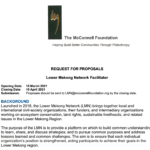 We are recruiting for a new LMN Facilitator. This role will be held by an independent consultant and contracted through the McConnell Foundation.
Opening Date: 15 March 2021
Closing Date: 15 April 2021
Submission: Proposals should be sent to LMN@mcconnellfoundation.org by the closing date.
BACKGROUND
Launched in 2016, the Lower Mekong Network (LMN) brings together local and international civil-society organizations, their funders, and intermediary organizations working on ecosystem conservation, land rights, sustainable livelihoods, and related issues in the Lower Mekong Region.
The purpose of the LMN is to provide a platform on which to build common understanding; to learn, share, and discuss strategies; and to pursue common purposes and address lessons learned and common challenges. The aim is to ensure that each individual organization's position is strengthened, aiding participants to achieve their goals in the Lower Mekong region.
Please see the announcement and Request for Proposals details here.