Phnom Penh City Hall on April 27 washed its hands of the decade long contentious Boeung Kak lake issue, saying it was closing its conflict resolution process, leaving seven families who had refused to accept the government's offers in the lurch. Following the signing of a ...
Ten years ago this week, Phnom Penh City Hall and the development firm Shukaku Inc announced an agreement to transform the Boeung Kak lake area into a sprawling mixed-use development. In the years following, thousands were evicted and a protest movement grew among the disgruntled ...
Alex Corporation, the firm behind a proposal for an ambitious Mondulkiri mining project, appears to be ultimately owned by ruling party Senator Lao Meng Khin and his wife, Choeung Sopheap, the Post has discovered, a scenario rights groups say should give cause for concern. The ...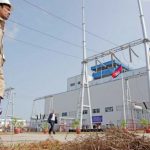 As Cambodia's demand for electricity grows and domestic energy production increases, new data released from the Ministry of Mines and Energy on October 10 show that coal-fired energy generation surpassed hydroelectricity for the first time last year. According to the Cambodia National Energy Statistics 2016, a joint ...