At a government-organised forum on sand exports on January 24, a Ministry of Mines and Energy official said an investigation had been carried out into huge discrepancies in data on sand export from Cambodia to Singapore but that the probe found no irregularities. UN data ...
Residents are angry and worried that illegal sand mining along the Bến Hải River in Quảng Trị Province continues unabated despite local authorities' efforts to stop the practice. Dozens of households on the banks of the river in Gio Linh District have not only lost ...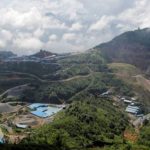 Output from a mysterious Myanma tin mine that has disrupted the global market in the metal is falling sharply and deposits could be depleted in "two to three years," senior mine officials told Reuters. A surprise discovery of large quantities of tin has propelled the formerly ...
In the first eight months of the year the Ministry of Mines and Energy has already surpassed its annual target for non-tax revenue collection from sand dredging and construction material-related mining operations, collecting 117 percent of the $6.6 million outlined in the 2016 national budget, ...