Expansion of land limits and accumulation of land for large-scale production are expected to be the foundation for the branding of farm produce. Vietnam has become a big farm produce exporter, but most of the products are exported as raw materials and don't bear a ...
An estimated 12.5 million people will be eligible for agriculture land tax exemption, leaving merely 77,000 people still subject to this tax. The tax waiver, provided in a decree signed by Prime Minister Nguyễn Xuân Phúc at the end of last month, came in for ...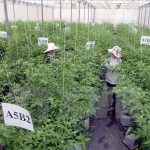 Vietnam will step up improving the investment climate and hopes to see Japanese firms increase investments in agriculture in the coming time, a Ministry of Agriculture and Rural Development official said. General Director of the MARD's Department of International Cooperation Tran Kim Long delivered the message ...

Contact us
Thank you for taking the time to get in contact!