"I was elected to represent the citizens of Pittsburgh, not Paris," U.S. President Donald Trump declared during a speech announcing his decision to pull the United States out of the Paris Climate Agreement. In so doing, Trump sent a message to the world: that his ...
Việt Nam plans to develop a low-carbon economy and include climate-change resistance work in its updated Nationally Determined Contribution (NDC) for the Paris climate accords.Keep reading ...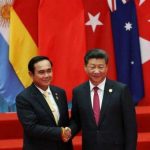 Thailand is ready to serve as a bridge linking the Group of 20's major industrialised economies and the developing economies in the Group of 77, Prime Minister Prayut Chan-o-cha says. Gen Prayut was speaking on September 4 as he attended the two-day G20 summit in Hangzhou, China ...

Contact us
Thank you for taking the time to get in contact!