Prime Minister Nguyễn Xuân Phúc on January 23 called on authorities in HCM City to continue efforts to tackle the worsening traffic congestion in the city. Phúc, along with Deputy PM Trịnh Đình Dũng, organised an online conference with city leaders and State agencies to seek ...
Cameras will be repositioned around the city to help curb a wider range of traffic violations and cut the rate of arguments between police and motorists, a senior officer says. Jirapat Phumjit, deputy chief of the Metropolitan Police Bureau who oversees traffic regulations in the ...
Cambodia could reduce its projected carbon emissions by 57 percent over the next 30 years without taking a financial hit if it implements low-carbon development policies in five key sectors, according to a new report in the journal Energy Policy. By fostering public transport and ...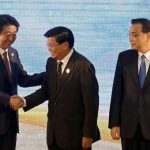 Japan and Laos have agreed on a joint plan to spur development in the landlocked Southeast Asian country during a meeting between their leaders. At their meeting held on the sidelines of the ASEAN summits here this week, Japanese Prime Minister Shinzo Abe and his Lao ...