Numerous members of the Cambodia Rice Federation, the body tasked with lobbying on the sectors behalf, have stopped paying membership dues and export fees, claiming that they cannot afford to as the industry continues to struggle with high production costs and regional export competition. According ...
The Rural Development Bank has called for expressions of interest to develop and operate a 200,000 ton rice warehouse and a rice paddy drying facility. The drying facility would have the capacity to process 3,000 tons per day. The government is seeking to finance additional agricultural ...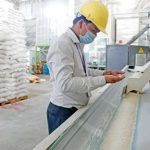 The state-owned bank entrusted with extending $27 million in emergency loans to millers to purchase rice paddy has marginally lowered the interest rate on these conditional loans in an effort to shorten some of the strings attached. The Rural Development Bank announced late on September 25 that ...
The government-owned bank charged with issuing $27 million in emergency loans to rice millers as part of an initiative aimed at propping up the struggling rice industry announced the terms of the credit lines on September 19, and said it would ensure that the funds ...