The 2015 Programme for International Student Assessment (Pisa) shows sharp falls in maths, sciences and reading scores for students in Thailand. Thai students are underperforming their peers in several Asian countries as their scores were below the international average in all three subjects. Pisa, which ...
While many university trainees refuse to return to Da Nang after finishing courses overseas, others have returned as promised, but then expect to leave again. Under Project 922 initiated by the Da Nang authorities 10 years ago, excellent researchers and university lecturers are sent to overseas ...
A website designed to attract international students to Australia has reported a huge spike in hits following the election of ­Donald Trump as the next president of the US. Chris Lester, chief executive of the Good Education Group, said traffic to its Studies in Australia site ...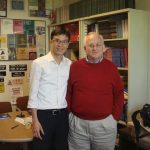 Vietnamese parents are worried about sending their children to the US to study because of US President-elect Trump's attitudes toward immigration. Tran Hoang Hoa, a parent in Hanoi, said she and her husband have reconsidered their plan to send the daughter to the US for university. "We ...