The finance ministry will build on the successes it has recorded last year in implementing a Resolution on improving the business improvement, Ngô Hữu Lợi, head of its Legal Department, tells the Vietnam News Agency. What are general results of the Finance Ministry implementing Resolution 19/2016/NQ-CP ...
The slow growth of the agricultural sector starting in 2015, shortcomings of small-scale production, poor quality and productivity amid fiercer global competition are threatening the sustainability of farming in Việt Nam and demanding institutional and mechanism changes. These concerns were shared among participants of the ...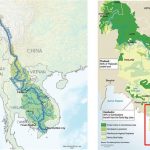 Early this year, many Mekong Delta farmers fought a losing battle against an epic drought, the worst since 1926. Was the drought a harbinger of climate change? Perhaps it was, but more certainly it was an artifact of El Niño. The same ocean-warming phenomenon that ...

Contact us
Thank you for taking the time to get in contact!