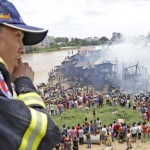 A rash of fires ripped through the capital on 24 and 25 August, with the most devastating one destroying 36 houses across a packed slum next to the Monivong bridge in the southern district of Chbar Ampov. The Chbar Ampov fire began to burn at about ...
The Phnom Penh police's fire brigade is creating a new committee to determine the cause of a blaze at O'Russei market on Sunday night, an official said. The flames, which started at about 10:30pm on the ground floor, completely burned down five stalls and damaged five ...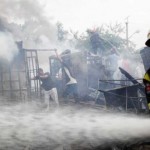 A fire ripped through Phnom Penh's Phsar Chas, otherwise known as Old Market, on 24 November, destroying about 300 of its 914 stalls and causing an estimated $1.5 million in damages, authorities said, although no one was injured or killed. The blaze began at 7am and ...