Cambodia: 300 stalls at Old Market scorched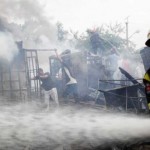 A fire ripped through Phnom Penh's Phsar Chas, otherwise known as Old Market, on 24 November, destroying about 300 of its 914 stalls and causing an estimated $1.5 million in damages, authorities said, although no one was injured or killed.
The blaze began at 7am and gutted the market's eastern core along Street 13, destroying or damaging up to 60 per cent of its stalls.
Vendors rushed to evacuate as many of their goods as possible, and then could only watch as the firefighters battled the flames for two hours.