Phnom Penh battles blazes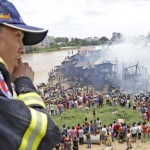 A rash of fires ripped through the capital on 24 and 25 August, with the most devastating one destroying 36 houses across a packed slum next to the Monivong bridge in the southern district of Chbar Ampov.
The Chbar Ampov fire began to burn at about 11am on 25 August, said Prom Yorn, head of the municipal fire brigade.
"We used more than 20 fire engines to put the fire out, which happened at around 1pm. We don't know the reason behind the fire yet," he said at the scene.
Local residents reported that one middle-aged man received light injuries to his back in the blaze and was sent to hospital.
The destroyed homes – mostly wooden shacks topped by corrugated metal roofs – were crammed tightly next to each other.