families, children and youth funding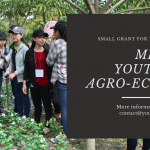 Mekong Youth Farm Network (Y-Farm) has been developed by enthusiastic youth from countries in the Mekong Region. Y-Farm focuses on five main fields/issues that relate to youth development and sustainable agriculture in the region including (i) training courses and farm improvement; (ii) youth exchange on farming ...

The 3rd ASEF Young Leaders Summit #ASEFYLS3 will be held in Brussels on 15-19 October 2018, with three critical levels of leadership, namely: You: Self-leadership We: Team leadership All: Societal leadership ASEFYLS3 adapts a 360° approach to leadership which recognises the very act of leading to be present across all spectrums of ...

Oxfam and Save Cambodia's Wildlife is organizing the regional youth camp in March 2018 and below are the relevant info: WHAT: Regional Youth Camp "RACING UP THE MEKONG" WHEN: 25-30 March 2018 (excluding travelling time for non-Cambodian participants) WHERE: Mondul Yorn Ecotourism Site of Ratanakiri province, Cambodia. You ...
 OXFAM

Youth Summit will be held on the 4-5 December 2017 in Washington DC and livestreamed globally. This year's Youth Summit will seek to provide youth with a forum to voice their concerns, share their ideas and learn from one another while discussing the challenges and opportunities created by ...
 World Bank