On 28 June, the Cambodian National Council for Sustainable Development of the Ministry of Environment launched the implementation of the National Strategic Plan and Action Plan for a circular economy with financial support from Sweden, Japan, and the United Nations Development Program (UNDP). The strategy includes ...
 Mette Larsen

Industry Minister Suriya Jungrungreangkit has pledged to cooperate with the German-Thai Chamber of Commerce (GTCC) to promote clean industry, as a means of reducing pollution problems including PM2.5 and making Thai industry more sustainable. "The German-Thai Chamber of Commerce offers to help Thailand make its industrial ...
 Post Reporters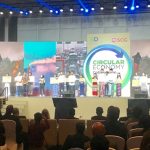 International representatives from the government and private sectors across Southeast Asia vowed to co-operate to address the resource constraints through the circular economy with a focus on "resource maximisation, waste separation and proper disposal" in the manufacturing and consumption cycle at a symposium in Bangkok ...
Climate risks and demand by Cambodia's garment customers for international standard waste compliance are inevitably pushing the Kingdom towards a circular economy. Global temperatures are expected to rise at a minimum of 1.5C beginning 2018, according to United Nations' Intergovernmental Panel on Climate Change (IPCC) last ...
 Sok Chan