ASEAN members agree to promote circular economy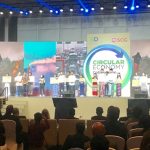 International representatives from the government and private sectors across Southeast Asia vowed to co-operate to address the resource constraints through the circular economy with a focus on "resource maximisation, waste separation and proper disposal" in the manufacturing and consumption cycle at a symposium in Bangkok on Monday.
The circular economy refers to an economic system that seeks to combat pollution and achieve sustainable development by reusing and recycling used products.
More than 1,500 delegates participated in the 10th annual Sustainable Development Symposium titled "Circular Economy: The Collaboration for Action", organised by Thailand's Siam Cement Group (SCG).