The Thai economy will grow next year after contracting by almost 10% this year. Next year, the Thai economy is expected to expand 3 to 4% from this year. It will not be until the end of 2022 before the Thai economy returns to its ...
 KIRIDA BHAOPICHITR/TDRI RESEARCH DIRECTOR

The Asian Development Bank raised its 2017 and 2018 growth forecasts for the region, reflecting rising exports as manufacturers of smartphones to cars to other consumer goods benefited from improving global demand. Developing Asia – made up of 45 countries in the Asia-Pacific region – is ...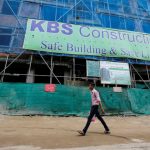 The World Bank has predicted strong economic growth in Myanmar through the 2016-17 fiscal year, ending in March. In its growth outlook for "developing East Asia and Pacific" for 2016-18, released on October 5, the World Bank projects growth in Myanmar to hit 7.8 percent for the ...

Contact us
Thank you for taking the time to get in contact!