The Global Initiative Against Transnational Organised Crime, working with the Henry Nxumalo Foundation, Oxpeckers Investigative Environmental Journalism and #WildEye Asia, is offering grants to journalists to investigate environmental crime in Asia. We're hoping for a diverse set of proposals and are reaching out to partners and ...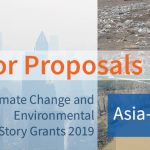 Earth Journalism Network (EJN)'s Asia-Pacific project aims to overcome these barriers by providing grants and mentorship to individual journalists to report on climate change, environment and natural resource management. They are seeking in-depth or investigative stories that focus on climate and environmental change or natural resource management ...
Announcing new grants by Internews' Earth Journalism Network and the Southeast Asian Press Alliance (SEAPA) for Environmental Journalists from Asia and the Pacific to produce stories focused on promoting free speech and the environment in the region. Successful applications will show how information can empower ...

Contact us
Thank you for taking the time to get in contact!