Despite the slowdown in global deal-making due to ongoing worldwide economic uncertainty, Vietnam remains active in M&A in 2020, according to a new report by Baker McKenzie. The firm's fifth annual Global Transactions Forecast, jointly released with Oxford Economics, projects that mergers and acquisitions (M&A) will ...
Vietnam's growth soared to more than 7 per cent this year, its highest in a decade, helped by a surge in its manufacturing sector. The country has long been one of Asia's fastest growing economies – GDP growth topped 5 per cent over the past ...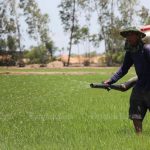 The cabinet on October 18 approved amendments to the Agricultural Land Reform Act, which has been in force for 40 years, in a move to narrow land ownership disparity and maintain existing land for agriculture. Key amendments include permitting heirs who do not want to ...
The Asian Development Bank has slightly revised up its forecast for Thailand's 2016 economic growth from 3 per cent to 3.2 per cent, praising the country's investment in infrastructure. "Government infrastructure investment is a key contributor to growth in Indonesia, the Philippines, Singapore and Thailand," ...