Companies acquired concessions amounting to the size of a small European country, while rural residents of Southeast Asia's Mekong region saw their landholdings shrink or disappear over the past two decades, according to researchers. More than 5.1 million hectares of land – an area larger than ...
The Ministry of Agriculture and Forestry will this year closely monitor domestic and foreign investment in this sector as it believes that many companies have not implemented the agreements made or complied with stipulated feasibility study methods. The ministry will strictly apply management measures to ...
Prime Minister Thongloun Sisoulith has pledged to find solutions to the many land issues that have emerged and the government has formed a taskforce committee to investigate the problems and resolve them. The committee will investigate land concessions, the transfer of land use rights in ...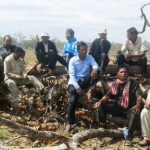 A study looking at economic land concessions in Ratanakkiri province has found that, contrary to the oft-repeated government narrative, they have brought almost no benefits to local communities. Speaking at a launch event for the study yesterday, one of the researchers behind it, Dr Neth ...