While financial inclusion is a top priority for emerging economies, new research suggests more stringent enforcement of anti-money regulations in recent years has resulted in major Western banks disconnecting from these regions, leaving local businesses without access to the international financial system. Correspondent banking relationships, ...
Acleda Bank's foreign operations in Laos and Myanmar performed well during the first quarter of 2017 while recording strong net profits last year, leading the bank to seek further regional expansion, according to a senior executive. Acleda has 41 commercial branches in Laos and six MFI ...
Commercial banks saw strong growth in housing loans last year despite a slowdown in the real estate sector, which could have a knock-on effect and threaten the growth of the country's services.​ According to a Ministry of Economy and Finance report released late last month, ...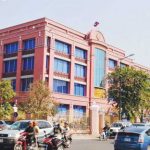 Cambodian financial institutions surveyed yesterday said they were in compliance with the central bank's revised liquidity coverage ratio requirements as the deadline passed to increase their cash and highly liquid assets to weather any internal or external shocks. The National Bank of Cambodia announced an incremental ...