The Government is encouraging made-in-Việt Nam internet platforms to replace international giants like Google and Facebook as part of its long-term efforts to strengthen cyber security, the communications minister said on April 18. As part of its efforts to ensure accurate information, the ministry has ...
Leading telecom service providers Viettel, MobiFone and VinaPhone are scrambling to put up base transceiver stations and pilot 4G services to be ready to officially offer them this quarter. VinaPhone has been providing 4G services on Phú Quốc Island since November after a year of ...
As many as 16 million of the 17 million pre-activated SIM cards that were recalled nation-wide have been locked by service providers on January 15. This was revealed at a meeting organised by the Ministry of Information and Communications in Hà Nội on Thursday to review ...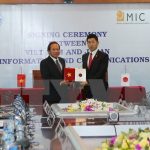 Vietnam hopes to expand cooperation with Japan in three priority areas in information and communications technology following a Vietnam-Japan policy dialogue on ICT in Hanoi on September 15. The priority areas are identified as policies and a strategy for the development of 4G/5G networks after the ...