About 70 villages were badly affected and houses destroyed after strong winds swept across Pakokku district on May 7. But there no reports of injuries. According to the Magway region Department of Relief and Resettlement, aid was being sent to the affected areas. U Myint Soe, ...
The Myanmar Garment Manufacturers Association has hit back at international news outlets over alleged child labour and labour abuse issues. Members of the MGMA have accused those news reports as "unacceptable" and "not accurate" at a press conference held on 6 March in Yangon. "Their ...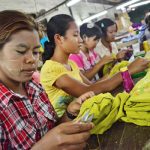 Myanmar's leading garment industry body has been buoyed by the lifting of sanctions it hopes will see a return to the glory days for the sector, when in the early 2000s a majority of country's garments were shipped to the US. Speaking at a manufacturing trade ...

Contact us
Thank you for taking the time to get in contact!