The government expects to borrow nearly $1 billion from external creditors this year, primarily for infrastructure development, pushing the national debt over $6 billion, according to a report issued on November 4 by the Ministry of Economy and Finance. About a third of this amount, some ...
The Union government is drawing up a plan to help children survive and thrive, Ministry of Planning and Finance director general Daw Whar Whar Maung told The Myanmar Times on October 26. Specifics details were not released for the plan, which was discussed at a meeting ...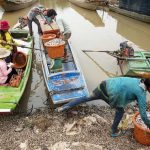 Every year during the wet season, millions of Cambodians are surrounded by water as the Mekong River floods. Yet the water is unsafe to drink, fouled by sewage and agricultural and industrial pollution. Living in villages on stilts, Cambodians bathe, fish and defecate in the flooded ...

Contact us
Thank you for taking the time to get in contact!