Ethnic minorities and indigenous peoples profiles
Indigenous identity is linked to the uniqueness of their valuable cultures, knowledge, and languages, which is reciprocally tied to time and space. Activists in Thailand call for priorities on self-determination rights for indigenous data. During the events celebrating this year's Thailand's Indigenous Peoples Day and ...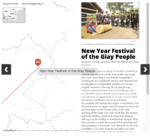 Open Development Vietnam just published a story map representing 17 typical ethnic minority traditional festivals in Vietnam recognized as national intangible cultural heritage by the Ministry of Culture, Sports, and Tourism. Festivals are an essential part of spiritual life in Vietnam, reflecting unique customs and practices ...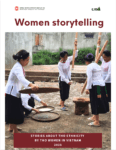 Part of our work through the Open Development Initiative is to support the digital rights of Indigenous Peoples in the region. Open Development Vietnam has partnered with Center for Sustainable Development in Mountainous Areas (CSDM) to develop storybooks shared by Indigenous women in Vietnam. It's available ...