Open Development Vietnam publishes a story on ethnic minority traditional festivals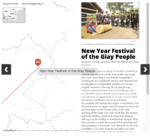 Open Development Vietnam just published a story map representing 17 typical ethnic minority traditional festivals in Vietnam recognized as national intangible cultural heritage by the Ministry of Culture, Sports, and Tourism.
Festivals are an essential part of spiritual life in Vietnam, reflecting unique customs and practices of each region and community. Traditional festivals provide an opportunity for people to exchange and pass on morals and ethics about noble aspirations and to share stories about subjects of worship such as gods, heroes, and those who have rendered meritorious services. And beyond these tangible benefits, traditional festivals are also occasions for people to wash away daily worries and find peace in a spiritual setting.