Results from a World Wildlife Fund (WWF) and Cambodia Fisheries Administration census released on Monday (Apr 23) showed that the population of critically endangered river dolphins in the Mekong has slightly risen from 2015. Keep reading ...
 Ouch Sony

Nine critically endangered Mekong Irrawaddy dolphins, were born this year, but two of them died, the World Wildlife Fund has said. In a statement issued on Friday, the WWF said the population continues to be threatened by illegal fishing and hydropower dams.Keep reading ...
 Pech Sotheary

The critically endangered Irrawaddy dolphin's population in the Mekong is "stabilising", the World Wildlife Fund said on December 27. With the sighting of 10 new dolphin calves and six reported deaths in the past year, 2016 saw a 30 percent drop in the mortality rate ...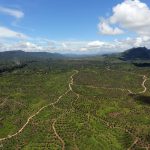 2015 was supposed to be a big year for the palm oil industry — the year it proposed to reach a "tipping point" and begin predominantly producing and trading palm oil that was not responsible for the destruction of forests, abuses of human rights, and ...