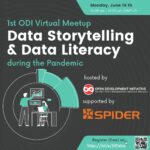 You are invited to a virtual meetup. 1st ODI Virtual Meetup Data Storytelling and Literacy during the Pandemic Jun 14, 2021 @ 10:00 am to noon (GMT+7) Register here: https://zoom.us/webinar/register/WN_vs8i6ItOTz-Aqm7Dgfjx9g Please find the preliminary agenda here. After registering, you will receive a confirmation email containing information about joining the zoom event. About the ...
The pre-recorded session for the upcoming 2020 Virtual UN World Data Forum on (TA1) Data for Development: towards a more integrated agenda from the global south is now available. About the session: Data is a crucial resource for the 21st century, for monitoring and achieving the SDGs, ...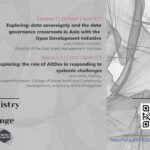 Session 1 overview: Exploring Data Sovereignty and the Data Governance Crossroads in Asia with the Open Development Initiative Date: 29 September 2020, 1 pm ICT As societies become increasingly digital how do we ensure that they are socially just and inclusive too? What implications do emergent tech and ...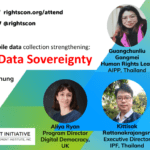 How do Indigenous Peoples exercise their data governance? Register for #RightsCon2020 to join Open Development Mekong's panel discussion on lessons learnt from mobile data collection applications that strengthen Indigenous data governance towards Indigenous Data Sovereignty (session ID #8999). Register for RightsCon, the world's leading event on ...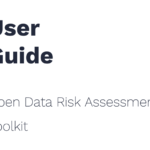 This toolkit is for anyone intending to upload or share any datasets as open data on the Open Development Mekong's (ODM) datahub. It is meant to be used to help guide users of ODM's datahub through a process of assessing the risks and benefits involved with ...
Open Development Initiative is looking to hire a National (from any of the Lower Mekong Countries) to help support the ongoing maintenance and development of the opendevelopmentmekong.net (ODM) platform and country sites. ​Application: Applications are accepted on a rolling basis until filled.Email: recruitment@opendevmekong.netCommencement: As soon ...
 ODI