1st ODI Virtual Meetup  Data Storytelling and Literacy during the Pandemic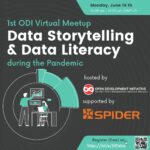 You are invited to a virtual meetup.
1st ODI Virtual Meetup
Data Storytelling and Literacy during the Pandemic
Jun 14, 2021 @ 10:00 am to noon (GMT+7)
Register here: https://zoom.us/webinar/register/WN_vs8i6ItOTz-Aqm7Dgfjx9g
Please find the preliminary agenda here. After registering, you will receive a confirmation email containing information about joining the zoom event.
About the ODI Virtual Meetup:
With the support of SPIDER, this virtual meetup is inspired by the awarded data storytellings. This meetup focuses on discussing what works, what does not, and what can be improved in order to build up the data-driven community nationally and share learning globally. We will bring together the OD networks, partners, data contributors, participants who attended the past Data Literacy Training program, and the awarded winners of the Data Storytelling Challenge. With the impacts of COVID-19, this would be the first time that we meet virtually and exchange experiences and lessons learned about our data literacy curriculum and training. Reflections from participants and trainers will help us to learn from each other, and identify insights to better develop data literacy within the Mekong region.
Key highlights you will hear at the event:
Why data literacy is important across all sectors.

Why the diversity of storytellers, in particular vulnerable populations, women groups and indigenous peoples, makes a difference to the narratives being told.

Creative ideas from awarded data-driven stories from Cambodia and Vietnam

Experiences and lessons learned from alumni of the data literacy training from across the Mekong region.

Exchanged lessons learnt and opportunities for strategies to overcome challenges to improve literacy skills of people from different sectors and demographic backgrounds.
Register to attend our event now and follow us on social media channels: Facebook | Twitter | Medium