Prime Minister Thongloun Sisoulith will officially launch the start of construction for the Laos-China railway project at a ceremony on December 25. The ceremony to kick off railway construction will take place in Luang Prabang district's Phonxay village where a railway bridge spanning the Mekong River ...
Chinese farms in Laos' provinces have been suspended due to their ongoing use of hazardous chemicals which are having negative impacts on people's health and the environment. The Prime Minister's Office's ordered the farms which are preparing to cultivate banana trees to cease their efforts ...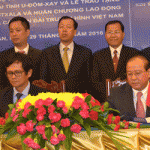 Vietnam Television has provided new radio and television transmission stations for Xay district, Oudomxay province, which will become operational today following a handover ceremony in Vientiane on November 29.​ A document to hand over the two stations was signed by Laos' Minister of Information, Culture ...
The Ministry of Industry and Commerce has ordered the closure of 28 wood processing factories located near and inside forest areas by next month. The ministry on November 28 issued a notification requiring the immediate removal or closure of 28 wood processing factories located close to ...