Thailand is equipped with the legal framework and policies to protect the rights of migrants, according to international standards, but their implementation remains a problem, a conference held to mark International Migrants' Day was told Monday.[]"The Thai government is fulfilling its commitments to an MoU which ...
 TAAM YINGCHAROEN

Tensions are mounting between Yangon City Development Committee and the commercial capital's street vendors, as a small contingent refuses to move stalls from their locations on Anawrahta Road. Following a recently announced ban on street stalls on Yangon's 11 busiest roads, YCDC staff have been travelling ...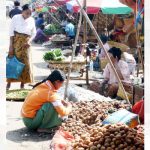 Residents of the nation's capital should have their fresh produce stalls back by the end of January when upgrades for Tha Pyay Gone Market are expected to wrap up, according to the Nay Pyi Taw City Development Committee. The project, which has been under way for ...

Contact us
Thank you for taking the time to get in contact!