A join-committee for the establishment of China-Myanmar Border Economic Cooperation Zone would be formed within the year in a bid to boost border trade between the two countries, according to the Ministry of Commerce. The committee would be headed by the commerce ministers from both Myanmar and ...
The Ministry of Commerce is working with the Central Bank to crack down on unreported export earnings, according to Union minister U Than Myint. The government has adopted a multi-pronged strategy to try to counter the volatile US dollar-kyat exchange rate, which has prompted widespread complaint ...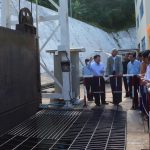 President U Htin Kyaw, together with Union Ministers U Than Myint, U Thein Swe and U Pe Zin Tun and Deputy Minister Maj-Gen Than Htut, visited Loikaw in Kayah State on November 3 and met with local officials, entrepreneurs, farmers and residents in Linphonlay Village. The ...

Contact us
Thank you for taking the time to get in contact!