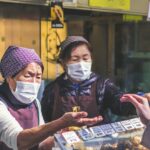 SUMERNET announces 2 calls for 2020: 1. Expression of Interest (EoI) for rapid response grants. SUMERNET will award three grants in total over the period of its fourth phase under "SUMERNET 4 All" (2018-2023). Funding support will not exceed US$ 42,000 per research project to be completed ...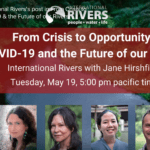 In response to current challenges facing rivers and our partners working in river dependent communities, International Rivers is organizing a webinar to stay connected and engaged. We invite you to join us to hear voices from representatives working on the ground, words of inspiration, and ...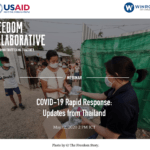 Together with the USAID Asia CTIP project, we continue our COVID-19 rapid response webinar series to discuss challenges, needs, and possible solutions for organizations working with already-vulnerable populations during this time. We also hope these discussions serve as a way for practitioners in the region ...

"Dams, disaster and ecological justice: Hydropower legacies in the Mekong" panel discussion and forum will be held in Bangkok, Thailand, on 18 October 2018. The event aims to explore the roles of regional decision-makers, alongside development partners, financiers and investors, in relation to current policies as ...