Year-end Dialogue Forum: Green Recovery: Moving Beyond the Pandemic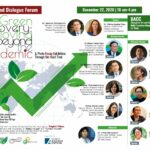 The monthly forum to "bridge the gap" and "connect the dots" of different views and opinions as well as bits of information to create one big picture for better understanding in society.
In times when society has become widened with gaps and differences of views and opinions, one issue could be escalated into a crisis if there are no platforms available for appropriate discussion among all concerned.
The media, while informing and inspiring their audience, could also take an educating and facilitating role to serve such the purpose, acting as a bridge and helping connect the dots into one big picture.
In collaboration with its partners and with the support of Konrad-Adenauer-Stiftung (Thailand Office), Bangkok Tribune Online News Agency has come up with a monthly forum on issues of importance, under the project, "Dialogue Forum".