ONLINE PANEL DISCUSSION: Haze and Social (In)Justice in Southeast Asia: Past Experience and What Next?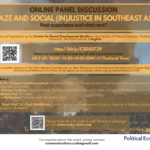 In this our first Political Ecology in Asia Seminar, coinciding with the International Conference on New Research in International Development, Human Rights, and International Relations at a Time of Disruption, we focus on the issue of social justice and air pollution. The discussion will examine how various economic, social and political inequalities intersect in relation to air pollution in terms of its creation and exposure, and the consequences for individuals, families and society as-a-whole. We situate the seminar in relation to the past experiences of air pollution and the heated debates that have ensued, but also look to the future given that the COVID-19 pandemic is disrupting and has the possibility to transform many aspects of future society-environment relations.
Date: Wednesday, 29 July 2020, 13:00-14:30 GMT+7/Thailand Time
Speakers:
Prof. Dr. Chayan Vaddhanaphuti, Regional Centre for Social Science and Sustainable Development, Chiang Mai University

Dr. Helena Varkkey, Department of Strategic and International Studies, University of Malaya

Benjamin Tay, PM Haze

Tara Buakamsri, Greenpeace Southeast Asia
Chair: Asst. Prof. Dr. Carl Middleton, Center for Social Development Studies, Faculty of Political Science, Chulalongkorn University
This panel will be hosted on Zoom.
For any inquiries about this event, please contact Anisa Widyasari at communications.csds@gmail.com.
Keep reading for more information