2019 Science Week: Resetting research priorities for healthy and sustainable food systems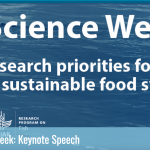 The current food system is responsible for producing one-fifth of total greenhouse gas (GHG) emissions, losing approximately one-third of edible food in production, inabilities access to healthy and fresh food sources and are causing one-third of the world's land degradation. Furthermore, an estimate of two billion people worldwide suffers from hidden hunger or micronutrient deficiencies that are often caused by not eating a diverse diet including animal source food like fish and meat. This global challenge is an issue that needs to be addressed through an unprecedented food system transformation.
Pursuing an empowerment agenda for development outcomes and transformative change, WorldFish is organizing Science Week with the theme For a sustainable transformation of food systems. The Science week will foster a shared understanding of global action towards the big picture contexts which we need to respond effectively in the short as well as long term to 2030. The WorldFish science week program will run from 16 to 20 September 2019.
WorldFish Science Week Program will commence on Monday, September 16, 2019, with a Fish for Thought session presented by Dr. Shenggen Fan, Director General of International Food Policy Research Institute (IFPRI) on Resetting research priorities for healthy and sustainable food systems. Join us as we will be streaming live the Fish for Thought session (click here to join) from 4 PM to 5 PM GMT+8 (time zone converter) and hear Dr. Shenggen for an in-depth insight of revolutionized focus towards sustainable food systems.