2020 EarthRights School Applications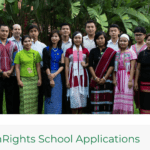 The EarthRights School prepares the next generation of earth rights defenders to draw on the power of their communities to protect their rights, resources and livelihoods. Most students come from indigenous and rural communities and have experienced environmental and human rights abuses firsthand in their own communities or through their organizations. They are highly motivated to address these issues through organizing, campaigning and legal advocacy.
Our one-of-a-kind school curriculum provides intensive training in human rights, environmental justice, community organizing, gender mainstreaming, campaigning and international legal advocacy. We also provide physical, legal and digital security training to ensure that our students and alumni can address potential security threats they might face because of their work.
Our students are human rights and environmental activists from across the Mekong region and have the opportunity to learn from local and international experts in the environmental and human rights fields. Once they join our alumni network, many of these students go on to lead their communities in fighting human rights and environmental abuses.
Related forms:
The deadline for application submissions is April 30, 2020. Please send your application and reference forms to ersmm@earthrights.org.