Commoning water(s): resources, services and ecological justice in Asia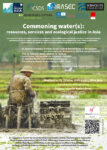 Inclusive and just water security is widely recognized as principal challenge in the era of the Anthropocene. Water insecurity affects the livelihoods of both rural and urban populations in Southeast Asia, and the wider the Global South.
This public event brings together academics and practitioners working on the frontiers of addressing the complex challenges and tensions surrounding water security and ecological justice. The roundtable panelists will explore how commoning approaches are emerging in Asian contexts to address these issues, which are being further exacerbated by climate change and increased urbanization. Panelists will explore the role of citizens, governments, and other actors in shaping the commons, the approaches that they have been working with both to secure water for basic human needs in the short term and to manage long-term ecological impact.
Wednesday 26 October 2022 from 6.30 to 8pm
at Alliance Française Media Library
179 Thanon Witthayu, Lumphini, Pathum Wan – 10330 Bangkok

Free admission with registration