EarthRights School (ERS) Advocacy Training Program for 2022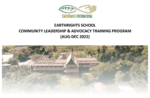 The EarthRigths School is an intensive, residential training program for activists and earth rights defenders from the Mekong region (China, Myanmar, Lao PDR, Thailand, Cambodia, and Vietnam) who are working on environmental and human rights issues. Through three months' program we will provide the relevant knowledge, skills, and networks that are necessary to strengthen our collective impact to defend human rights and the environment for activists and ERI alumni. For more information about the curriculum, please see the Program Information attached file.
Our ideal candidates are individuals who have directly experienced environmental and human rights challenges in their own communities and are highly motivated to address these issues. We are looking for people who are enthusiastic about partnering with environmental and human rights advocates throughout the Mekong region and who aspire to become future community leaders. We welcome candidates from indigenous and rural communities who will benefit from increased knowledge of environmental and human rights.
The training takes place in Chiang Mai, Thailand from September to December. Housing, transportation, and a modest living stipend are provided to successful candidates.
For more information, please see the attached file below.
The deadline for applications is 15 May 2022.
Applications or questions may be emailed to ersmm@earthrights.org. You can also call +66 (0)81 6723095 (Thailand) for more information.