Forum on financing of Mekong dams: Fri 2 October, Bangkok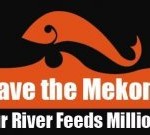 Published 30 September 2015. Source: https://www.facebook.com/SaveTheMekong/posts/1148766491819228:0
International financing of dams in the Mekong: Responses to ten years of banking on Nam Theun 2
10am, Friday 2 October 2015
The Foreign Correspondents' Club of Thailand, located at the Maneeya Center, 518/5 Ploenchit Road (connected to the BTS Skytrain Chitlom station), Bangkok, Thailand.
This forum is open to the public, and free of charge.
Co-hosted by International Rivers, Mekong Watch, Focus on the Global South & NGO Forum on the ADB.
A panel discussion featuring:
Bruce Shoemaker, Independent Researcher | Prolific writer focused on natural resource conflict issues in the Mekong region, who has undertaken systematic documentation of the livelihoods of people living along the Xe Bang Fai, prior to – and after – the construction of the Nam Theun 2 Dam
Witoon Permpongsacharoen, Director, Mekong Energy and Ecology Network (MEE Net) | Prominent Thai advocate for democratizing energy planning and acclaimed analyst of the system of power trade promoted by hydropower proponents in the region
Moderated by: Toshi Doi, Senior Advisor, Mekong Watch & Tanya Lee, Lao and Malaysia Program Coordinator, International Rivers
Panelists will explore different thematic areas of contestation, including the situation of resettled and downstream populations, impacts on the energy sector, the links to the development of the GMS Power Grid, dam project building along the Mekong mainstream and climate change implications.
Background
It is ten years since the World Bank Group and Asian Development Bank (ADB) approved the provision of loans and risk guarantees totalling more than US$335 million for the development of the Nam Theun 2 Dam in Laos. Since then, Nam Theun 2 continues to be promoted worldwide as a model investment in hydropower by international financial institutions.
The project is supposed to have allowed Laos to reap the benefits of development, poverty alleviation, sustainable watershed and forestry practices, and the development of new legally binding social and environmental protections.
Are all these benefits reflected in the reality on the ground? The time for an evaluation of the investments in Nam Theun 2 has come.
Contact: Tanya Lee via email: <tlee@internationalrivers.org> or Whatsapp: 60193746433