Fostering Solutions and Collaboration for a Sustainable Mekong River Delta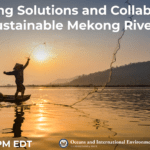 When: Tuesday, Jul. 14, 2020 at 10:00 PM – 11:30 PM EDT
As part of the U.S. Vision for a Free and Open Indo-Pacific the U.S. government is committed to providing a platform that encourages information sharing, dialogue, collaboration, and stakeholder engagement for cooperative, responsible management of the Mekong River. The U.S. engagement with the Mekong region has long emphasized cooperation on water-related policy and program activities. This engagement builds trust among partners and stakeholders and strengthens cooperation not only on water issues but for natural resources management more broadly.
This program will engage key stakeholders about the importance of managing drought and salinity and how to mitigate the adverse effects of saltwater in delta ecosystems. The Mekong River is home to one of the most productive and biodiverse river ecosystems in the world with over 1,100 species of fish.  The Mekong River provides freshwater for these ecosystems and for agriculture, fisheries, drinking water, transportation, and energy. Every year, saltwater intrusion, or the presence of saltwater in inland rivers or groundwater, renders freshwater resources unusable for agriculture or drinking.  Saltwater intrusion in the Mekong River, and especially in the delta, is exacerbated by drought, sea level rise, and lower water levels in the river from increasing dam and infrastructure development. 
This program on managing drought and salinity builds upon existing efforts in the Mekong region to strengthen collaboration and dialogue on water issues and solutions, and supports the Mekong Water Data Initiative (MWDI). The MWDI aims to strengthen the capacity of Lower Mekong countries to collect, analyze, and manage water and water-related data in order to reduce water-related risks and promote sustainable economic development across the water, food, energy, and environment nexus.
U.S.-based experts engage with Mekong stakeholders to identify strategies and methods to foster longer-term information sharing, collaboration, and expert consultation. This program benefits regional mid-level water, rural and urban development, energy, environment, and health ministry officials, water resource managers and utility operators, academics, and civil society in the Lower Mekong region.