Mekong Institute to host Mekong Forum in Khon Kaen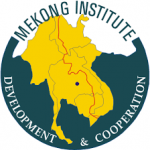 The Mekong Institute will host the 2017 Mekong Forum in Khon Kaen, Thailand on July 14, 2017, with the theme for the event as "New geo-economics: Reshaping the future of the GMS?"
Read their release and call for participants below, or at the 2017 Mekong Forum website.
—
"New geo-economics: Reshaping the future of the GMS?" is the theme of this year's Mekong Forum. What is the geo-economics and how does it affect the GMS's position in the global economic battlefield? These will be addressed at the Mekong Forum 2017 to be held at Pullman Hotel, Khon Kaen on July 14, 2017.
Organized by Mekong Institute (MI), the Mekong Forum 2017 brings together development practitioners, senior policy makers, business and civic leaders, and academics who are involved in the promotion of socio-economic development along the GMS to analyze major global transformations and its effect to the GMS, tackle ways to improve risk management for government and business, and discuss the importance of regional and international cooperation in braving the challenges and opportunities brought about by the new geo-economics.
During the one-day event, participants will share their experiences, success stories and discuss innovative ideas on the role of development partners, the changing needs of the GMS countries, and ways to achieve enhanced regional integration and promote more equitable and inclusive growth in the GMS. All the information including date and venue, registration process, cost, contact focal person, program schedule and details of key note speakers and travel arrangement, etc. We look forward to welcoming you soon!