Regional Capacity Strengthening Program for Indigenous Peoples Advocates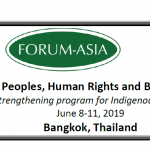 The Diplomacy Training Program (DTP) in partnership with the Asia Indigenous Peoples Pact (AIPP) and Asian Forum for Human Rights and Development (FORUM-ASIA) is calling for applications for a regional capacity strengthening program – 'Indigenous Peoples, Human Rights and Business' – to be held in Bangkok in June 8-11, 2019.
This program will strengthen the knowledge and skills of Indigenous Peoples (IPs) advocates to protect and promote human rights in the context of rapid economic development and the impact of large-scale development on the lands and livelihoods of IPs. The program will build knowledge of international human rights standards and mechanisms that can be applied and integrated into effective advocacy strategies.
The program will also enable the sharing of experience and building of networks to share knowledge and support. The Indigenous Peoples, Human Rights and Business program will coincide with the annual forum of the OECD, which will take place for the first time in Bangkok from 12-13 June, and which may provide opportunities for program participants to interact with officials and experts.