#Right2CleanAir Roadshow: From 2.5 to Zero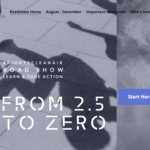 Air pollution is an invisible enemy, killing over 4 million people globally each year.
A clean air future requires systems-level change. Everyone – from civil society, the private sector and government – has a role to play. Aligning and prioritizing action based on data and facts is essential.
We believe that everyone has a right to breathe clean air. To catalyze change, join the Circular Design Lab and the Thailand Clean Air Network in this Digital Roadshow: 'Getting from PM 2.5to Zero' to learn and take action for the #right2cleanair.
From August – December 2020 the Roadshow is organized into two tracks:

INHALE (learn)

and

EXHALE (take action).

A full schedule of events

is here

.

All events are free, open to the public, and offered in Thai and English.

Some will be in Bangkok, others fully digital.
READY? Join here!