Storytelling, Connecting, and Supporting Women for River and Water governance: an invitation to co-design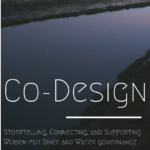 As with so many other global events in 2020, last year's Women and Rivers Congress was held online. For the 181 participants, this was a great opportunity to start to meet and connect with the many activists, researchers, journalists, artists, and organisations working to support women's voices in river management and governance.

The event had been scheduled to take place in Vietnam, and to connect women across the Mekong River Basin, the Nu-Salween, and South Asia – and was instead held virtually between July and September 2020 as three separate workshops, attracting a global audience. The report from the 2020 Women and Rivers Congress is available here.
The need for more opportunities to share and connect.

Quick Link: Co-design Expression of Interest