The 7th Asia-Pacific Adaptation Forum: Virtual Dialogue Series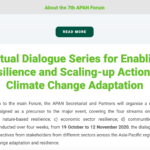 The 7th APAN Forum will be held virtually on 8-12 March 2021 under the theme: Enabling Resilience for All: The Critical Decade to Scale-up Action, sharing learnings from actions towards climate-resilient development. Resilience is the unifying theme of the Forum, which is structured around four thematic "streams" focusing on (i) inclusive resilience; (ii) nature-based resilience (iii) economic sector resilience; and (iv) communities and local resilience, respectively.
Hosted by the Ministry of the Environment of Japan (MoEJ) , Government of Japan, together with the APAN secretariat at UN Environment, the Forum is the largest gathering of adaptation practitioners in the Asia and Pacific region.
Virtual Dialogue Series for Enabling Resilience and Scaling-up Action on Climate Change Adaptation
In preparation to the main Forum, the APAN Secretariat and Partners will organise a series of five dialogues designed as a precursor to the major event, covering the four streams on: a) inclusive resilience; b) nature-based resilience; c) economic sector resilience; d) communities and local resilience. Conducted over four weeks, from 19 October to 12 November 2020, the dialogue series will to bring perspectives from stakeholders from different sectors across the Asia-Pacific region in support to climate change adaptation and resilience.
Go register on the site.