USAID and NASA launch technology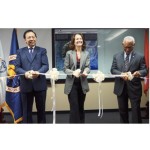 Published 3 September 2015. Source: https://www.usaid.gov/asia-regional/press-releases/aug-31-2015-usaid-and-nasa-launch-technology-development-project
Press release: USAID and NASA Launch Technology for Development Project in Lower Mekong
BANGKOK, August 31, 2015 — The United States Agency for International Development (USAID) and the U.S. National Aeronautics and Space Administration (NASA) today launched "SERVIR-Mekong," a project to promote the use of satellite imagery to help Asia's Lower Mekong region better predict and cope with floods and other natural disasters and increase resilience to the negative effects of climate change.
SERVIR-Mekong, funded by USAID and NASA and implemented by the Asian Disaster Preparedness Center and its partners, will help governments and other decision-makers in Burma, Cambodia, Laos, Thailand and Vietnam take advantage of publicly available satellite imagery, geospatial data and maps to make more informed decisions on critical issues such as water management, land use planning, disaster risk reduction, infrastructure development and natural resources management.
"It's an honor to welcome into the SERVIR community one of the most exciting, progressive, vital regions of the planet," said NASA Administrator Charles Bolden, who took part in the facility's official opening today along with NASA Chief Scientist Dr. Ellen Stofan and other agency representatives.
More information on SERVIR-Mekong is available at http://servir.adpc.net and SERVIR-Global www.servirglobal.net.